'60s and '70s Productions
Updated September '10
This content derives from either programmes from productions or from contributions to the (now defunct) 'DGSEUK' web site.
1960 - The Mikado
I was in the chorus of the 1960 production of the Mikado. Our Pooh Bah was Mr Brett (Bert) (Maths) and Koko was Jimmy Gorsuch (Biology). It was of course a most professional production! I cannot sing a note in tune now but we had great fun at the time especially with the artistic temperaments flying around. - Val Crooke ('56-'61)

1961 - Twelfth Night
1962 - H.M.S. Pinafore
I remember Wilson the music master coming in to ask us if we would be willing to take part in Pinafore--we were about to tell him to "get stuffed" when somebody said "Yeah!--why not?" and we all joined-in. I was a member of the crew and somebody stuck some black whiskers on me and they are still there although the quality of the material used was inferior and they seem to have faded a little. David Durham was Ruler of the Q's Naveeee and Michael Evans was Ralf Rackstraw. I can't remember the rest of the cast but think some reprobates from the Upper VI like Mike Mancktelow and Mick Patterson were in the crew. Bob Head was in the crew but Bob--good lad that he is--was never a reprobate. After the last performance I seem to remember we repaired to a local hostelry in our sailor suits ... - Andrew Forester ('55-'62)

Yes, Andy and on the last night you tried to get me to join with you in looking as if we were pulling pints at the bar, during one of our chorus songs, but I was 'stage struck'. The Captain's daughter was Pauline Calbury. Who was Buttercup? - Robert Head
Mr Glover - Producer
D Webb - Captain Corcoran
Crew
Robert Head
Peter Crooke
David Draper
Dave Jefferis - Pianoforte
Photos: - Peter Hoyles
(Celia Nightingale/Glover has posted some photos of the production on Friends Reunited.)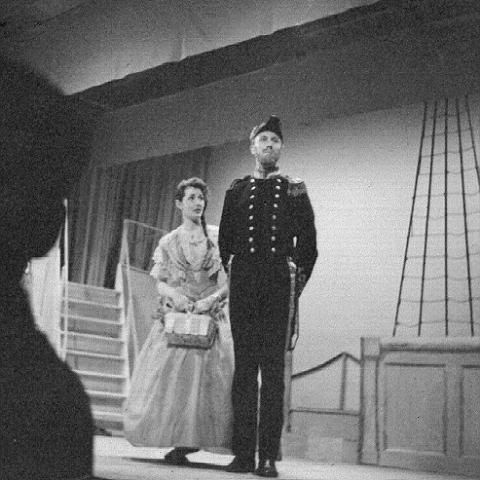 Josephine and the Captain
1963 - The Skin of Our Teeth
Stage crewe
Peter Crooke

1964 - Iolanthe
1965 - The Winterís Tale
(Two photos from Brian Griffiths on FR)
David Draper - Florizel

1966 - The Pirates of Penzance
(Some names identified from the photograph in Compotus '66, Vol. 15)
Ann Crawshaw - Kate?
Lesley Morgan - Mabel
Peter Constantinou - Pirate King?
David ("Ouch! - my leg") Hull - Major-General Stanley (wheelchair-bound)
Geoff Pollott - ?
Ken Shepherd - Frederic (pirate apprentice) (- JK)

Chorus
Janet King
Reg Thomas
David Sanguine
Jennifer Stone
1967 - The Crucible
(Names identified from photos of the cast and Elinor's article in Compotus '67, Vol. 16)
Elinor Burdall - ?
Judy Emmerson - Tituba
Mary Pauley - Mary Warren?
Mitchell French - John Proctor
1968 - She Stoops to Conquer
(Names remembered by Sheila Jennings.)
Pauline Ibbotson - Producer

Frances Wilson - Constance
Sheila Jennings - Mrs Hardcastle
Alan Chappell - Mr Hardcastle
Tony Lumpkin - ?
No photographs of the production are believed to exist - Miss Ibbotson's camera unfortunately malfunctioned.

1969 - The Pajama Game
('Pajama' is the American spelling.)
? - Producer
David Wills - Hines
Brian Doubleday - Prez
Kevin Mortimer - Joe
Roger Bootle - Hasler
Geoff Henley - Sid Sorokin ('Hernando's Hideaway')
*Janet King* - Gladys (sang and danced 'Steam Heat')
Gillian Briggs - Mabel
Mark Dineen - Charlie
Rebecca Long - Mae
Jackie Davis - Brenda
Marilyn Miller - Mae
Wendy Plastock - Poopsie
Anthony Sanders - Salesman
Alan Chappell - Pop

"What the cast lacked in slick professionalism they made up by their vitality and enthusiasm" - Harrow Observer.
What are they talking about? - We were real slick! - Janet King


Photos of the production were taken by the brothers 'Dymoke-Bradshaw'.
1970 - Twelfth Night
Sailors
Bob Ford
Michael Stiliano
Photos: Lennie Bradshaw
1971 - Noah
I remember several school productions - Noah (didn't think much of that), Twelfth Night, The Mikado and HMS Pinafore. The last 2 productions obviously didn't put me off Gilbert and Sullivan as I have been a member of a G & S amateur society for 17 years! - Janet Sutton.

John Watkins (who played Noah), myself, Keith Watkins and, I think, Bill Jaggs built the scenery under the direction of Mr Davies. He built a model of how it should look and a few plans and then let us get on with it. Well, we started with lots of enthusiasm and not a lot of skill but we were well ahead with the plans and suddenly realised that we would have to go back to lessons if we finished too soon. So we took to having a quick smoke under the stage. Now, as you know, that backed onto Mr Munroe's Music Room and we duly got reported, but being L6 we weren't caned but told that we had to do extra work to catch-up with the lessons from which we had been excused because we were building the scenery. - Paul Hooper ('65-'72)
1972 - HMS Pinafore
The Mikado and HMS Pinafore in 74 and 72 respectively were my first forays into the thespian muse! I was a miscellaneous Japanese and Sailor respectively.

If my memory serves, Ian Hay was the hero in Pinafore, John Cockram was Captain Corcoran or Sir Joseph Porter, the late Stephen Thomas had a part (was he Dick Deadeye?), and Michelle Gordon was the heroine. - John Lawson ('69-74)
Paul Zackon, Ian Hay, David Abrahams - by Keith Halsey

1973 - The Seven Ages of Man
Sue Woolf - ?
Terry Stern - wide boy
Keith Riglin - screaming officer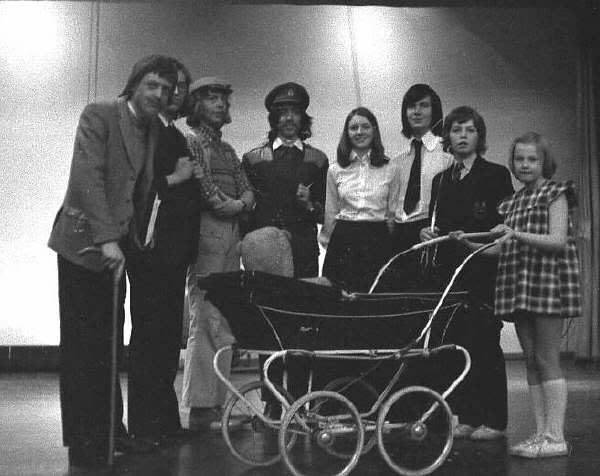 Photos: Andy Ling (from DGSEUK)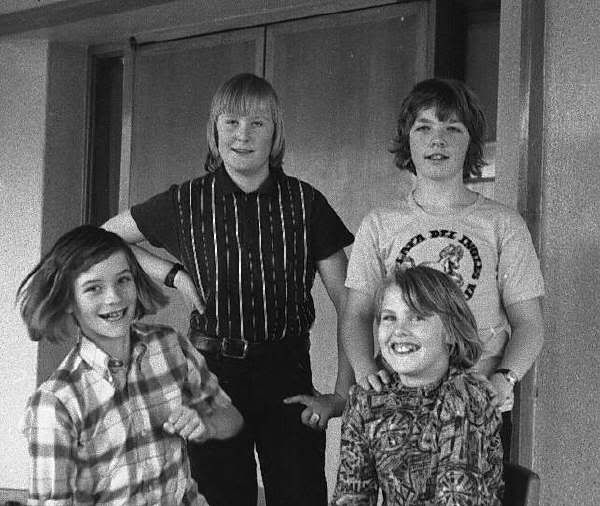 Kevin Petty, Simon, Mark Cancea, unknown, John Lundy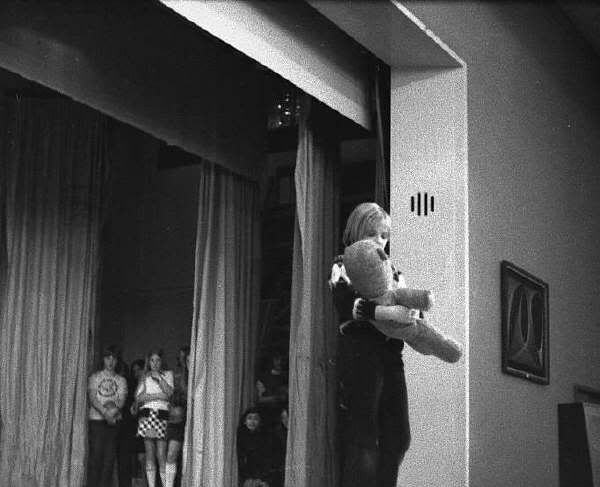 1974 - The Mikado
In The Mikado, Mary Atkins and Joanna Novak shared the role of Katisha, David Abrahams was Pooh Bah, Ian Hay was Nanki Poo, and the two-thirds of the three little maids were Karen Loxton and Shirley Boggis. I think Paul Davidson may also have had a part, as well as Stephen Thomas and John Cockram again. - John Lawson ('69-74)

I have just uploaded (to 'groups.MSN') a set of photographs and the programme from The Mikado 1974 production. These were the photos that Graham Leask and I shot during the dress rehearsal. They also were displayed on notice boards after the show for people to order copies; hence the sticky lables and numbers. For some reason I cannot find more of the chorus and the second act with Stephen Thomas's great rendition as the Mikado.

I have also attached the Harrow Observer's rather mixed review of our performance. Having looked again at our footwear, I cannot criticise the comments, but I thought that the comments about John Cockram's gags were unnecessarily harsh. - David Abrahams
The Harrow Observer did a review of the school's Mikado - not very complimentary about its "modern gags and modern footwear". - Janet Sutton
Stephen Thomas - Mikado
John Cockram - Ko-ko
Roger Winstanley - Pish-Tush
Ian Hay - Nanki-Poo
David Abrahams - Poo-Bah
Shirley Boggis - Yum-Yum
Karen Loxton - Pitti-Sing
Marion Connah - Peep-Bo
Joanna Novak and Mary Atkins - Katisha

Director
M Williams
Musical Director
R N Bowman
Pianists
Marion Kelly
Timothy Smith
Sue Woolf - set design
Photos: David Abrahams